Are you tired of seeing the same boring system icons day after day? Add some variety, beauty and convenience to your desktop!
Brief description

Bee Icons can replace almost any system icon with a more stylish and improved version. You can change Desktop icons, Start Menu, Hard, Floppy and Compact Disk icons. You can also assign unique pictograms to any folder or file type. Bee Icons allows you to change just one or two icons or you can apply an entirely new icon set to the desktop using Icon Themes. Currently, there are more than 50 unique Icon Themes to choose from.

The program is designed for Windows 95/98/Me/2000/XP. It is easy to use and has a multilingual interface (35 languages are currently supported). If you like variety and enjoy working in a stimulating environment then this program is definitely for you.

More Info | Screenshots | Download | Order Now
Why Bee Icons?

Bee Icons can change more than 250 icons in Windows 95/98/Me/2000/XP individually, or all at the same time. More Info.
Bee Icons can change the icons of individual disks and folders.
Bee Icons supports the most popular Icon Theme formats of other programs.
The Bee Icons interface supports more than 34 languages.
We gather only the Best icon themes from the whole Internet and make them available on our website to guarantee maximum pleasure from your use of Bee Icons.
We do not add any advertising to our Icon Themes.
You get ten additional OUTSTANDING Icon Themes (containing more than 1000 separate icons) absolutely free if you register Bee Icons in the first ten days after downloading.
Screenshot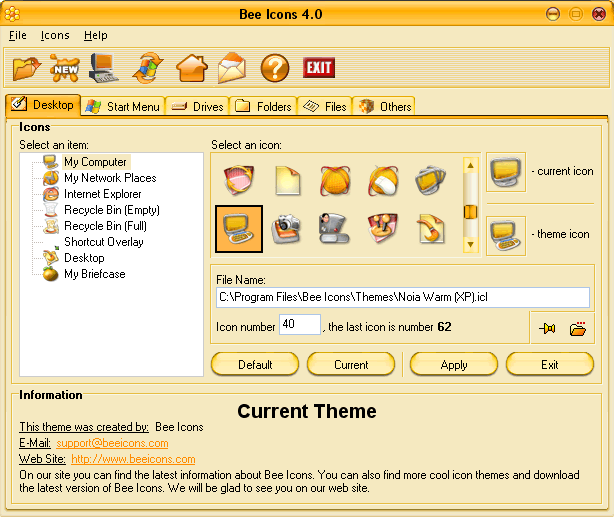 Testimonials
I am very fussy about the appearance of my PC desktop. I have used a few different icon changers and I must say that yours is the simplest and most compatible I've ever used. My family are the only ones who see my PC desktop but they always "OOOH and AAAH" over my pics and icons. I love the ease of Bee Icons and the ability to change a single icon if you want.
Bub Preece,
Inez, KY
I mostly use

Bee Icons

to customize my system icons, or to just to change file type icons since it is faster than using the Windows built in method.
The best feature I've seen so far, which I can't find in any other iconcustomizing program, is the ability to change the icons on the Windows XP Start Panel. Other utilities claim that this cannot be done, and they don't do it, but

Bee Icons

does.
Matthew Holder,
Satsuma, AL
***
I enjoy using

Bee Icons

. I use my PC almost exclusively for business. The ability to personalize my desktop and other screens provides some relief from my more serious work! The ready availability of new icon sets is an excellent feature, which gives me access to whatever suits my mood.
Brian Stagg,
Grantham, United Kingdom
***
>What do you use Bee Icons for? How does it help you?
It makes Windows look more like an Apple Macintosh. :-)
Ronald Vogel,
Uepsen, Germany
Add your testimonial here
---
---
Copyright © 2002-2023 ArcticLine Software. All rights reserved.
Read our Terms of Use and Privacy Statement
Web site statistics analyzed by AlterWind Log Analyzer.